Date:
Wed, Aug 26 2020 1:00pm to 3:30pm (CDT)
Please note that the date of the OQM has changed from Thursday, August 6, to Wednesday, August 26. If you were previously registered, you should have received an email from GoToWebinar with updated calendar information. Contact Jill with questions.
SBCA's In-Person August OQM to Be Held Virtually
After careful consideration, the SBCA Executive Committee has decided to cancel the in-person Open Quarterly Meeting (OQM) scheduled for August 4-6 in Park City, Utah.
Much like the May OQM, an alternate virtual Board meeting will be held on Wednesday, August 26, at 1 pm Central. An agenda for the virtual meeting will be available soon. The Board hopes all members will attend online – register here today!
In the meantime, the Strike Forces will continue to hold online meetings and move forward on tasks that deliver great value to SBCA members. If you'd like to get engaged in one of the Strike Forces, or want to stay up to date on what they are working on, visit the SBCA strategic plan webpage for frequent updates.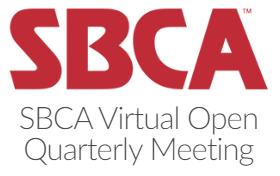 ---
Many thanks to our 2020 OQM Sponsors:
Gold

Bronze