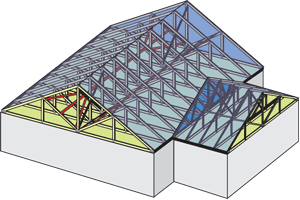 Bracing provides stability against unintended movement or motion.
Temporary installation restraint/bracing consists of lateral restraint and diagonal bracing installed during construction for the purpose of holding trusses in their proper location.
Permanent bracing is intended to resist forces from gravity, wind seismic and other loads.
Temporary Bracing
Resources
BCSI Book
BCSI is the truss industry's guide for jobsite safety and truss performance, which includes information regarding the handling, installation, restraining and bracing of metal plate connected wood trusses.
BCSI B-Series Summary Sheets
Summary Sheet for condense each chapter of the BCSI book. These documents are sized so they fit in the information packages truss manufacturers send to the job site with every truss delivery.
Jobsite Packages
Jobsite Packages provide best practice information regarding handling and installing components to include with every jobsite delivery.
Long Span Truss Installation
These resources address the unique challenges of installing and bracing trusses greater than 60' in length.
Crane Use & Proper Truss Handling
This brochure from the TTB series explains safe, correct jobsite procedures for handling trusses using mobile crane equipment.
Online Course on Storage, Handling, Installing & Bracing Wood Trusses
Learn more about temporary bracing best practices and earn continuing education credits.
Permanent Bracing