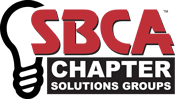 Held online with SBC Connection, members participate in Chapter Solutions Groups from their offices. Like our Business Solutions Groups for component manufacturers, Chapter Solutions Groups bring together members from across the country to share advice and strategies.
Chapter Solutions Groups:
Provide an open discussion forum for members to get feedback from their peers – the knowledge that our industry leaders can share is our most valuable resource.
Address pressing issues that ALL chapters are facing as members offer solutions that have worked in their states.
Meet quarterly in advance of the SBCA Open Quarterly Meetings so that information can be shared from the chapters to the Board.
Serve as another avenue for Building Community & Making Connections
All you need is a phone line and an internet connection to attend the web-based meeting, so please consider joining us! We'll forward the phone number and link when you sign up, and you are welcome to suggest specific items or questions for the meeting agenda, too. Contact SBCA to let us know you would like to participate. We hope to hear you then!