Floor Truss Information and Resources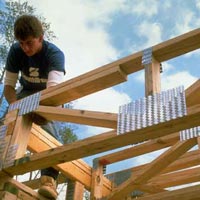 Floor trusses are the solution to many floor framing challenges presented in today's complex and sophisticated building designs. In addition to the space allowed for mechanical and plumbing runs, floor trusses can reduce framing time, material waste and callbacks.
See the resources below for more information on how to specify, install and brace floor trusses.
Representative Span Tables
These span tables provide representative spans that are possible with 4x2 floor trusses at various truss depths, on-center spacing and deflection limitations.