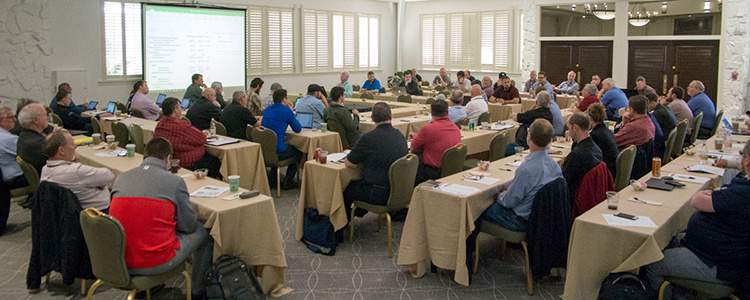 The goal of each Open Quarterly Meeting (OQM) is to bring component manufacturers (CMs) and suppliers together to discuss the latest issues facing the components industry. Besides BCMC, OQMs are one of the most valuable investments CMs can make both from the perspective of return on that investment and industry-specific best practice development. Given their focus on open dialogue and social interaction, the relationship building opportunities at each OQM are unparalleled.
Member Feedback
"Having been in the truss business for over 40 years, I often think I know just about all there is to know. However, as I continue to engage with the friends I've made through SBCA and listen to how they solve problems, I continue to broaden my perspective on how to tackle issues. More than ever, as building code, regulatory and material supply issues arise one after another, we all need to be fully aware of what we don't know. SBCA meetings are the best place to find out exactly what we might be overlooking."

– Jack Dermer • American Truss Systems • Houston, Texas
Learn more and register for upcoming events:
OQMs are well-attended and provide a great deal of value to members through educational and networking opportunities. Visit the links below to read more about past meetings:
---
Many thanks to our 2020 OQM Sponsors:
Gold

Bronze

---
If you are unable to travel to every OQM, please note that meetings are often available via SBC Connection, which lets participants take part in meetings over the Internet without leaving their office or home. Contact staff for more information about this option.
Related Link
Other Events
Local Chapter Meetings
Join other SBCA members in your state, or region, to network, share ideas, and help solve issues impacting the structural building component industry.  
Building Component Manufacturers Conference
The Building Component Manufacturers Conference (BCMC) has become a trusted venue for structural building component manufacturers to learn about the latest ideas, products and trends throughout their entire supply chain. The annual tradeshow includes a dynamic exhibit floor with machinery demonstrations, educational opportunities and the chance to enjoy the camaraderie of an industry that spans generations. Non-members who qualify as a Component Manufacturer Member and submit a completed membership application and applicable dues along with their BCMC registration form may deduct the first registration fee - a $195 savings.