SBCA Vision: The building industry will use high quality building components provided by SBCA member companies
SBCA Mission: SBCA members will gain the knowledge and power to run successful, growing, profitable companies offering a compelling competitive advantage in the marketplace for their customers and professional growth for employees
Using our strategic plan as our foundation, the SBCA Board and committees are working with SBCA staff to narrow our short-term priorities and establish tasks that need to be implemented to begin achieving these four longer-term strategic goals through member-driven Strike Force teams. At the first SBCA Open Quarterly Meeting (OQM) of 2020 in Miami, Florida, we began the process of parsing out the tasks necessary to meet those four strategic goals. We divided those in attendance into five "Strike Forces," charged with identifying and articulating those initiatives and tasks, including completion dates: 
For more information on the Strike Force initiatives or to get involved contact staff. Then stay on top of the latest on these efforts through SBC Magazine.
Download Strategic Plan Contact Staff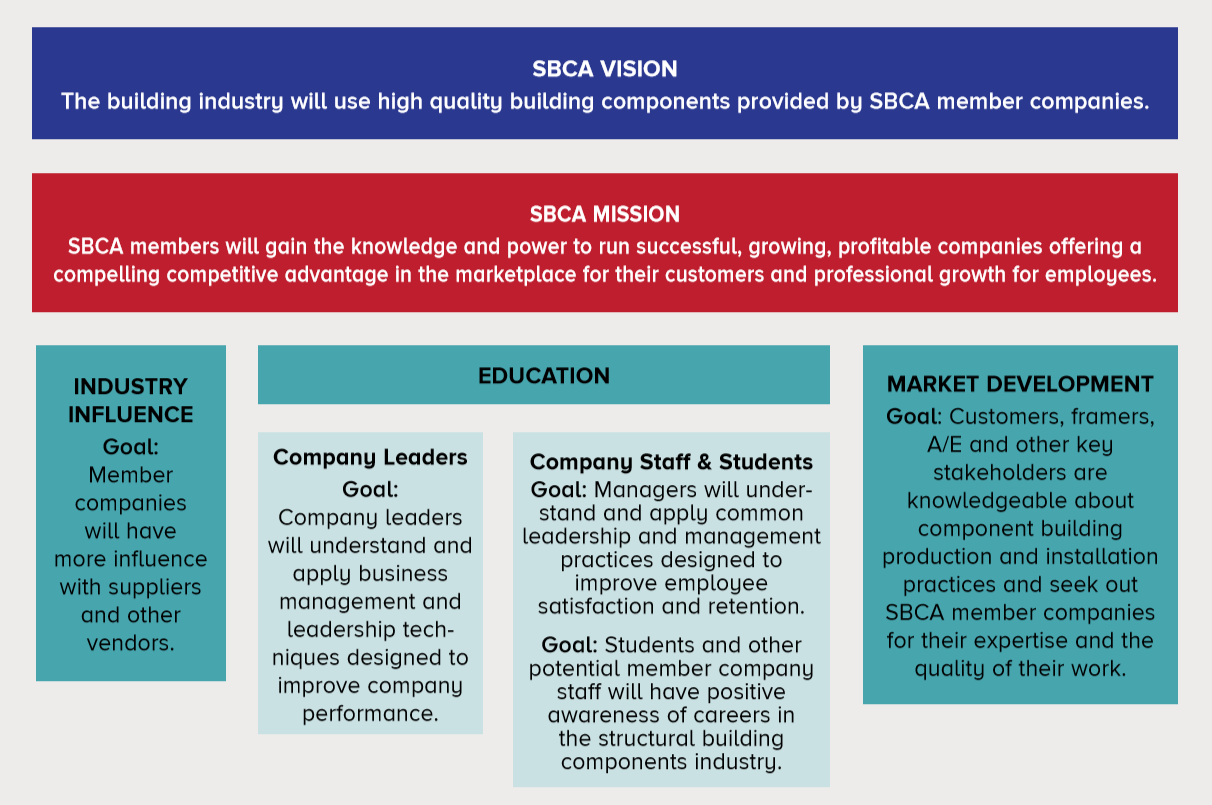 Related Content:
---
Updates on Strike Force Groups
Strike Force 1 Update (updated on 4/30 at 2:07 p.m. CT)
After regrouping from a spirited Strike Force 1 meeting in Miami, Strike Force 1 is pivoting its focus to prioritizing the creation of an in plant QC specification that is essentially an "electronic version" of current truss design software outputs for plate placement diagrams and truss manufacturing into a standardized input for SBCA's ongoing Digital QC development. Software development evolves quickly, so the intent is to have the electronic interface reduce the need for TPI members to create special programs for SBCA's digital QC, or potentially require SBCA to support five different formats which costs everyone time and money.
SBCA has made a commitment to improving in-plant quality control processes for truss manufacturing, given that there have been opinion debates about truss quality with truss manufacturer customers. This debate has surrounded plate embedment and truss joint quality primarily which has led SBCA to review how best to gather objective data while also streamlining the in-plant QC data acquisition process. Pressed for solutions, SBCA embarked on creating a digital in-plant QC program that assures data accuracy and provides an ability to generate in-plant quality control charts and data based feedback to help management in their continuous manufacturing improvement and training efforts.
The focus on this electronic output process will allow SBCA CM Members active within Strike Force 1 to work with SBCA Staff to identify key data points to include in its Digital QC software to modernize CM's daily QC inspections, provide a more robust statistical relevance and continuous management feedback. The discussions within Strike Force 1 led to the idea that we can streamline the development of the QC File format using the current .TPS file format concepts, which are used throughout the component industry. A new .TPSX format will be utilized to allow for efficient and standard communication between truss design software and Digital QC software.  This streamlined approach will enable SBCA staff to write code without the use of any electronic translator or file interpreter software. 
Strike Force 2 Update (updated on 4/30 at 2:07 p.m. CT)
On Wednesday, April 22, a Strike Force 2 subgroup met to discuss developing an Equipment User Forum. This online collaboration resources is meant to connect CMs from across the country using similar equipment, so they can share best practices, maintenance tips, source parts and troubleshoot common problems.  Those in attendance agreed that the benefits of a user forum far outweigh the potential challenges of any mass online discussion.  To that end, the group agreed that strict accountability guidelines must be required to protect various brands mentioned on the forum and to prevent unintended consequences of comments made online.  This subgroup divided even further into thirds to focus on three distinct issues: determining the best user interface, drafting forum rules and enforcement mechanisms, and defining the requirements users must meet in order to participate.   These three small groups will meet in the coming weeks, draft recommendations and report back to the strike force subgroup. 
Background Information
In late 2019, SBCA's Executive Committee launched a strategic planning process that began with a survey of component manufacturers (CMs) that garnered a significant response. Twenty-three percent of SBCA members and eight percent of non-members responded to the survey designed to gather specifics about CMs' pain points and the role SBCA can play to support its members in alleviating those challenges.
SBCA's Executive Committee members, along with the chairs and co-chairs of SBCA's standing committees then met in early January 2020 to pour through those survey responses and ultimately agree on a revised, and much simplified, vision and mission for SBCA. We were also able to articulate the four main strategic goals SBCA should have over the next five years. (If you'd like to see a final copy of the strategic plan, please download it here.)