Component Marketing Toolbox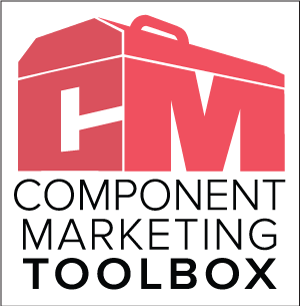 Toolbox Subscriber: LOGIN HERE
Your subscription to the CM Toolbox gives your company access to a variety of marketing tools based on SBCA's Framing the American Dream (FAD) project. The videos, customizable brochures, infographics, photos and PowerPoint presentations are based on data collected during framing comparisons conducted in 1995 and 2015. In addition, you will receive sample social media posts and template suggestions for how to group these tools together on your company's website.
The subscription also gains you access to articles that provide guidance on different ways to use all of these items in fresh ways throughout the course of the year as you develop your own marketing strategy. Last but not least, the CM Toolbox subscription includes a powerful online calculator that leverages the FAD data to give CMs a way to estimate the total cost savings their component package can provide to a potential builder or framer customer.
Take a few minutes to review the sample content below. This is just a taste of what will be available to CM Toolbox subscribers! Please note, CM Toolbox subscriptions are available to SBCA members only.
Videos
This library of short videos will focus on two main audiences: the builder customer and the framer customer. Currently, videos on Wall Panels vs. Site Built Walls and Roof Truss vs. Roof Rafters are available for both audiences. View sample video.
The library will eventually expand to include topics such as: Advantages of Roof Trusses in Complex Roofs; Floor System Packages vs. Site Built Floors; Energy Efficiency Gains with Wall Panels; Advantages of Floor Panels; Material Savings with Components; Jobsite Waste Reduction with Components; Greater Jobsite Safety with Components; Framer Perspective on Components v. Stick Framing (testimonial); Builder Perspective on Components v. Stick Framing (testimonial); and many more.
Customizable Brochures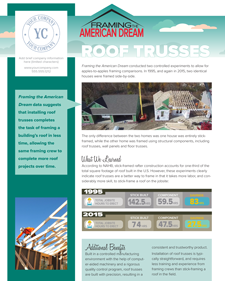 Each video in the library has a corresponding brochure highlighting the key points raised in the video. Each brochure is designed with a blank area that accommodates a customized block made for the subscriber.  That block includes the company logo, contact information and any other pertinent information the CM decides to add to the block (as space provides). Once the unique CM block is completed, it is automatically merged with the brochure anytime it is downloaded. View sample brochure.
Infographics
A library of infographics that illustrate the various data points collected during the FAD study are available to download for use on the subscriber's website and in PowerPoint presentations, social media posts, email signatures and printed materials. View sample infographic.
Photos
An extensive library of photos focuses on component framing and features hundreds of photos taken during the latest FAD study.  Over time, the library will grow to include photos taken from many other jobsites. The library is broken into topical sections: Roof Trusses, Wall Panels, Floor Trusses, Bracing, Safe Installation, etc. Within each section, the photos are available for download in multiple sizes and image file types for use on the subscriber's website and in PowerPoint presentations, social media posts and printed materials. View sample photo.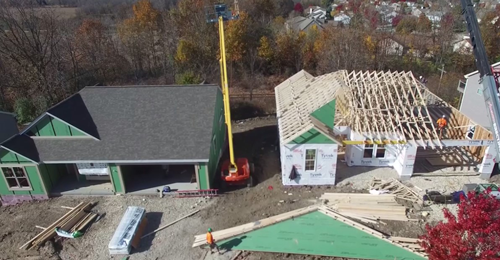 Presentations
Similar to the videos, a library of PowerPoint presentation slides broken down by topic are available for subscribers to download if they would prefer this approach when talking with a customer about switching to component framing. Each presentation can be downloaded either as a .ppt or a .pdf file. View a sample presentation.
Social Media Templates
Examples of social media posts will also be available for the subscriber to copy and use on Facebook, Twitter and LinkedIn. These templates recommend graphics or photos to download, contain sample text that can be customized by the CM to accompany the image, along with suggested urls to include in the post. 
FAD Calculator
A powerful online calculator is available in the toolbox to help the CM take a specific job and estimate the total cost savings their component package can provide to a customer versus stick-framing, based on the cost of labor and materials.  After inputting a small set of data points unique to a particular project, the calculator estimates total costs and overall savings. It can be a powerful talking point for a CM when approaching a customer about switching to their framing products. Contact SBCA staff for a demo.
Subscription Pricing
Subscriptions are available to SBCA members at a rate of $449 per year per location. Contact staff to start your subscription.
Subscription Add-on
Framing the American Dream Templated Microsite 
For an additional $750, SBCA staff can use our FAD template to build a "microsite" that is customized for the subscriber's company. Staff will work with you to determine videos, brochures, photos, infographics and pre-written copy you should use to further your specific marketing strategy. The link to this microsite can then be used on your company's website and in emails to work as a digital brochure, reaching potential customers for a fraction of the cost of a sales call. View sample microsite.
If you are interested in even greater marketing strategy development beyond the template, staff can work with you to create a proposal for a customized approach in your market.