---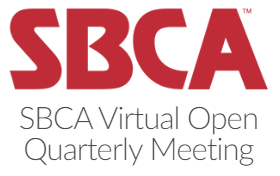 Date:
Wednesday, May 20 2020

1:00pm

to

3:30pm (America/Chicago)

(America/Chicago)
Due to COVID-19, SBCA's spring Open Quarterly Meeting that was set to happen in West Virginia was held virtually on May 20 via GoToWebinar. In addition to updates on SBCA's Strategic Plan [1] and what the organization is doing to reach its goals, the meeting included industry-wide and regional updates provided by CMs and suppliers from across the country.
Members can log in and view a recording of the meeting using the button below.
The OQM [2] scheduled for August 4-6 in Park City, Utah, will still be held in person. We were also able to reschedule with The Greenbrier for the May 2021 OQM!
View Recording (Member Only) [3]     Download Meeting Materials [4]
---
Many thanks to our 2020 OQM Sponsors:
Gold

Bronze

---
Source URL: https://www.sbcindustry.com/article/2020/sbca-virtual-open-quarterly-meeting
Links
[1] https://www.sbcindustry.com/strategic-plan
[2] https://www.sbcindustry.com/open-quarterly-meetings
[3] https://www.sbcindustry.com/may-virtual-oqm-video
[4] https://www.sbcindustry.com/sites/default/files/uploads/attachments/node/16306/2005_board_meeting_agenda_final.pdf
[5] https://www.sbcindustry.com/article/2020/sbca-virtual-open-quarterly-meeting