Fire Protection - Fire Resistance Rated Truss Assemblies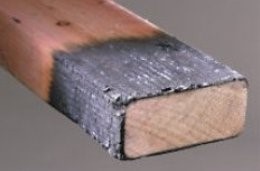 Fire Retardant Treated Wood (FRTW) products are permitted by code in certain situations where a fire resistance rating is required. Per the IBC the majority of buildings will fall into one of five different construction types, I, II, III, IV, or V depending on level of fire resistance of the building's exterior structural frame. Each type of construction, except IV, also has an A and B designation based on the level of fire-resistance rating required for the building's interior elements.
In Type III buildings, exterior walls are required to be built of noncombustible materials and interior may be any material allowed by code. Although FRTW framing is not considered a noncombustible material, the 2015 IBC Section 602.3 states that as long as the FRTW complies with IBC Section 2303.2, it shall be permitted within exterior wall assemblies of a 2 hour rating or less. 
One thing to note is that when horizontal assemblies (such as trusses that are a part of floor/ceiling and roof/ceiling assemblies) are bearing on exterior walls that use FRTW to comply with Type III requirements, these horizontal assemblies are NOT required to be made of FRT lumber. 
Top Resources
Provides guidance on the use of FRTW products in trusses and wall panels in above ground applications where allowed by code. Available as a sealed code compliance report. 
Where walls and ceiling assemblies meet, joints need particular attention in terms of fire protection. This report steps through the details of these requirements.
This report focuses on Type III construction, specifically requirements for the use of Fire Retardant Treated (FRT) Lumber in floor/ceiling and roof/ceiling assemblies bearing on exterior walls of Type IIIA buildings. Available as a sealed code compliance report.