Finding & Hiring Perspective Candidates
Assessing | Training | Retention | Case Studies | Career Center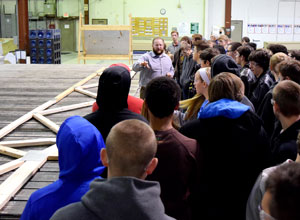 Developing a reliable pool of prospective candidates takes time and effort, but the CMs who have developed a systematic and ongoing process for outreach and recruitment insist it's more than worth the investment. In fact, CMs that have developed successful recruiting practices spend as much time on hiring as they do on new hire orientation and training. And getting the initial evaluation right significantly increases the odds of retaining new employees, ensuring your resources are being well spent!
There isn't any one way for CMs to finding and growing new talent. Some CMs are approaching workforce development in their communities by organizing plant tours and job site visits for students from high schools and technical education institutes, others are taking a start-from-scratch approach to training new recruits, being proactive in their approach to finding candidates or connecting with their alma mater in search of new talent.
Read more case studies on what CMs are doing to find and recruit young people to the industry.
---
"The value of plant tours is off the charts. It can't be undersold or overestimated. If the industry could get itself involved in schools that are open to bringing career opportunities, it would be absolutely amazing what the industry would see in terms of applicants."   - John Puckett, Instructor, Taller San Jose Hope Builders (read more)
---
Build Relationships with Schools
By and large, CMs across the country have learned that collaboration with local, regional and state educational organizations is an effective workforce recruitment approach. If you haven't already, consider designating a point person from your company to reach out to high schools, trade schools and technical colleges and build relationships with instructors and administrators. Another approach is to offer presentations for students to increase general awareness of the industry and specific knowledge of your company and any positions you're considering hiring for in the near future. Plant tours are also an effective way to expose students to the manufacturing process and spark interest that can quickly translate into internships and seasonal help.
Use SBCA's WFD Tools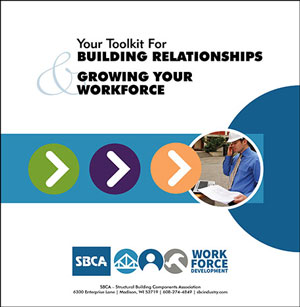 An excellent tool to use in building relationships with tech schools, community colleges and high schools, the WFD Industry Promotion Binder and Educational Overview can be customized for your individual company. It includes promotional brochures introducing the industry which can be distributed at career fairs or classroom presentations, posters for use at job fairs, other industry handouts and a CD, perfect for presentations. 
Use SBCA career path brochures to help introduce the industry and career paths to students.
The SBCA Workforce Development Portal is another tool for CMs to place job openings and find additional state and federal workforce development resources.  
Your company's HR representative can create an account on the portal to place job openings, view resumes and access resources.  
The WFD portal contains the following information for employers: 
The WFD portal contains the following information for job-seekers: 
Another way to find potential candidates is through LinkedIn. SBCA's LinkedIn page is providing general information to prospective candidates who may not otherwise learn about the SBC industry. You can create your own company page as well as following the SBCA page to help you make more connections and find interested prospects. 
To stay up with current industry wages and benefits, SBCA's CM members have the opportunity to participate in an industry-specific Wage and Benefit Survey. CM members who participate in the survey receive the results at no charge.