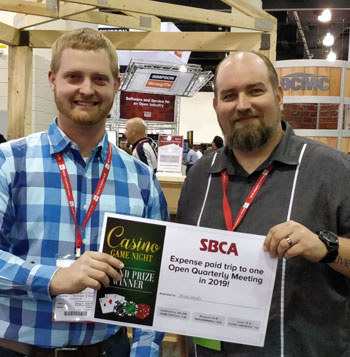 The SBCA Emerging Leaders Committee was created to give the next generation of leaders in the structural building components industry and in SBCA an opportunity to meet one another, build lasting relationships, learn from others who will share their experiences and gain a greater depth of knowledge of the industry and its trade association. The intent is to provide sustainability, growth and enthusiasm for member companies and the association.
The committee is advancing its mission through the following activities:
Visit the links below to learn more about some of the members of this active SBCA committee and read on to learn how you or someone in your organization might get involved.

Dallas Austin
Big C Lumber Truss & Panel
Dowagiac, MI

Greg Dahlstrom
Villaume Industries, Inc.
St. Paul, MN

Jared Dix
Apex Truss
Warsaw, VA

Justin Groom
Trussworks LLC
Caldwell, TX

Joe Halteman
Wood Truss Systems, Inc.
Fishers, IN

Jason Hikel
Shelter Systems Limited
Westminster, MD

John Holland
Clearspan Components, Inc.
Meridian, MS

Darryl Hooper
Southern Components, Inc.
Shreveport, LA

Dustin Johnson
Alpine, an ITW Company
Austin, TX

Mike Kozlowski, P.E.
Apex
Jacksonville, FL

Justin Richardson
Richco Structures
Haven, WI

Tasha Shifflett
Quadd Building Systems
Remington, VA

Ashley Stroder
California TrusFrame
Perris, CA

Bryan Sylvester
California TrusFrame
Perris, CA

Brad Unruh
Timberlake TrussWorks
Helena, OK

Jason Walsh
California TrusFrame
Perris, CA

Jason Ward
California TrusFrame
Perris, CA

Travis White
A-1 Roof Trusses
Fort Pierce, FL
Committee Chair: Steve Stroder, California TrusFrame
Committee Vice Chair: Jason Hikel, Shelter Systems Limited
---
Requirements for Participation in the Emerging Leaders Committee:
An Emerging Leader (EL) must work for an SBCA member company in good standing and be nominated by someone in the leadership of that company who is willing to sponsor his or her participation and serve as a Local Mentor (LM). The LM does not need to be a board member of SBCA to make a nomination, but should have the authority within his or her company to approve travel and other associated expenses on behalf of the EL.
Each EL/LM pair must commit to attending at least two of three Open Quarterly Meetings (OQMs) and BCMC per year for at least one year.
At the discretion of the president, an EL can participate in the committee without an LM.
ELs will receive training from staff and members of the Executive Committee regarding how meetings are conducted, committees available, tools/products from SBCA, etc. This training will be provided either at OQMs or via GoToMeeting during the course of the year.
In addition to participating in the goals and objectives of the Emerging Leaders Initiative, each EL must commit to serving on at least one SBCA committee. ELs will be given strong consideration for roles as vice-chairs of SBCA committees and will be looked to to lead meetings and focus groups at OQMs and BCMC.
Members of the committee will provide an update on the group's work at each Board meeting.
The Emerging Leaders Committee will include both component manufacturers and suppliers.
Want to Know More?
Contact staff for more information about the Emerging Leaders Committee and upcoming events or submit your application here. Please select a Local Mentor and obtain his or her approval regarding the requirements of participation in this committee prior to submitting your application. If you have need for financial assistance to participate in this program, consider submitting an entry for an SBCA Emerging Leaders Scholarship.